Becoming a Pack Leader
When a dog becomes a part of the family, it expects you to treat it like a dog, not like a human. Understanding how dogs think is a key to future training, behavior, and solving social problems.
The dog is an expressive and sociable species. Their behavior may be apparently similar to humans, but sometimes it doesn't have the same meaning as human behavior.
Puppies have natural observation skills which they use in its new human pack. Vocal communication is important too, but it is our body language that is most observed and studied by dogs. Canines and primates have an amazing vocabulary of body language. Almost every move you make is subject to interpretation and that can help to develop the canine mind.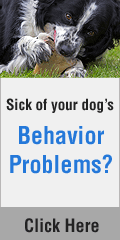 Dogs also seem to know when something is about to happen, like a family vacation.  This seems mysterious to human hosts, but can be explained by visual cues that people send to their dogs.
The dog's cleverness should not be confused with human intelligence, though. A Canine's thinking process is not the same as ours. If we treat the dogs like humans, we are sending signals that can be confusing or incomprehensible, and that can end up in disappointment when they fail to behave the way we want them to. That is why we should think like a dog to communicate with them successfully. The dog will expect you to act like a leader providing food, security, and protection.
The training will depend on how well you can get the messages sent to your pet at the canine level.