Causes of Aggressive Behavior In Dogs
As territorial animals, a dog's instinct is to dominate people and other dogs and be the leader.
In the wild, all canines have their hierarchy. To keep their position, they can be aggressive toward other dogs for survival reasons. As a domesticated animal, the dog will act the same as in nature. He will impose his leadership in the domestic "pack" and will protect his loved ones from the unknown.
Sometimes, he can use aggression to protect his belongs (family, home, food, toys).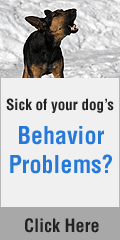 Fear can provoke aggressiveness also. Strange people at the door, such as a mailman, or someone with uniform can make the dog fearful, and that can lead to aggression, even if the dog it's not the dominant one in the household.
If a dog feels pain or is ill, it might also be a reason for aggressiveness.
You must be aware of a dog with aggressive tendencies.  He can be really dangerous. Do not approach a dog that has shown itself to be very aggressive for any reason. The right thing to do is to contact a specialist, a dog trainer and let him deal with the dog. Trying to control him by yourself, with no supervision, can be dangerous and you might get hurt.